Solid T & G Pre-finished Timber
Tongue & Groove Hardwood Timber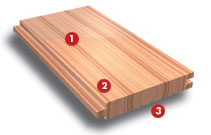 A real solid wood floor will add a touch of class to any room and will never lack admirers. Solid woods have always been in vogue with discerning home owners and compliment any decorative taste. They can last a lifetime and can be brought back to their original condition time and time again unlike carpet. Wood floors are the ultimate choice for hygiene, in this growing age of allergies. They leave no haven for dust nor mites and help relieve allergic sensitivities such as asthma. A wood floor is easy to maintain and keep clean. Just a quick sweep or vacuum is all it should need. C&G manufacture T&G as one piece of wood from top to bottom. It is available in many different types of wood species, colours and patterns. It is also available in two types of finishes; Pre-finished and Unfinished. The majority of solid wood flooring requires to be nailed down and would require a wooden sub floor. Solid wood blocks (parquet) can be glued down to a variety of sub floors. However, solid wood plank and strip require to be nailed down and as such would need a wooden sub floor. Solid wood requires moisture control and would not be suitable in areas such as bathrooms or kitchens.
Solid Hardwood Pre-Finished Flooring:-
All Solid Hardwood Timber are manufacture finished(sanded and coated), allowing easy installation & higher scratch resistance. It can be walked-on stright after the timber is installed.