Engineered Floating Timber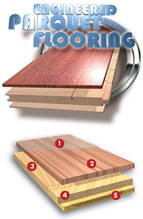 C&G Timber Flooring stocks an extensive range of Valinge Pre-finished Engineered Timber Floors most commonly known as floating timber floors. Floating timber floors are pre-finished with top layer of 3.6mm solid hardwood which is re-sandable, sawn from the tree species of your liking, lacquered with 7 coats of scratch resistant, and 65% gloss finish. They are a total of 14mm in thickness and constructed with a bottom layer which is plantation timber plywood, and the top layer which is your choice of solid hardwood. The surface finish enhances the timber grains and appearance of your floor, ensuring you of the lifestyle experience you would expect from any quality product. The Gloss finish can be re-sanded and recoated if required. This process cannot be achieved on products with an aluminium oxide coating.

The construction of engineered floating timbers is three layers of timber fused together in opposing grain direction. Tis process, together with hevea, a plantation grown hardwood as it's core, gives superior strength, optimizing dimensional stability thus minimizing expansion, shrinking or warping due to changes in climatic conditions. The bottom layer timber veneer stabilizes the overall construction and gives a surface that ensures trouble free installation. The patented Valinge Locking System allows a board to be more easily removed and replaced if necessary, compared to the tongue and groove glued installation method. Due to these benefits, the Valinge mechanical locking system, whilst relatively new in design and concept, is becoming the product of choice worldwide, when compared with the traditional tongue and groove system. Engineered floating timber can be installed by both a professional installer o an experienced handyman. As it is pre-finished, it will provide you with a solid timber floor in a matter of hours, over any level, solid and dry internal subfloor. As no sanding or coating is required, it is an environmentally and allergy free product to install. For bet results we recommend you have a professional installer to lay your floor, otherwise DIY is always done-able as adhering to the recommended installation guidelines.

SPECIES: